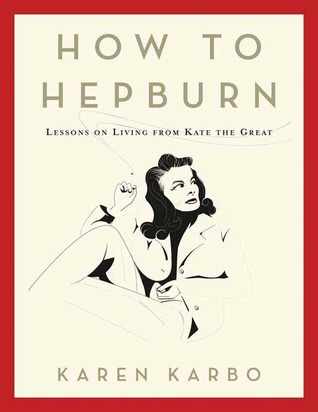 "Karbo presents all this heterodox advice with great humor, but there's a point she's making to sister Gen-Xers: Hepburn broke all the rules women were supposed to follow and still had a fabulous life." --Publishers Weekly
About the Book
How to Hepburn, Karen Karbo's sleek, contemporary reassessment of one of America's greatest icons, takes us on a spin through the great Kate's long, eventful life, with an aim toward seeing what we can glean from the First Lady of Cinema. One part How Proust Can Change Your Life and one part Why Sinatra Matters, How to Hepburn teases some unexpected lessons from the life of a woman whose freewheeling, pants-wearing determination redefined the image of the independent woman while eventually endearing her to the world.
This witty, provocative gem is full of no-nonsense Hepburn-style commentary on subjects such as: making denial work for you; the importance of being brash, facing fear, and always having an aviator in your life; learning why and how to lie; the benefits of discretion; making the most of a dysfunctional relationship; and the power of forgiving your parents. Thrilling fans of the notoriously independent actress, award-winner Karen Karbo presents a gusty guidebook to harnessing your inner Hepburn, and living life on your own terms.
Selected Reviews
"These days, women in Hollywood and everywhere else are following [Hepburn's] fiercely independent lead – and Redbook contributing editor Karen Karbo is no exception.  Her sassy new book, "How to Hepburn: Lessons on Living from Kate the Great" explains what we can learn from the iconic leading lady, who makes most of today's heavy-hitting celebrities look pretty lightweight."

–Redbook
---
Karen Karbo's "How to Hepburn: Lessons on Living from Kate the Great" strides magnificently before our eyes, much as Hepburn did onscreen. Perhaps because Karbo's mother turned to Hepburn and not Jackie Kennedy as her 1960s household saint, Karbo goes for honesty over hagiography-and still finds much for us to emulate. And Karbo has the same appetite for a good sentence that Hepburn had for life

–More
---
"Katharine Hepburn died in 2003, four years shy of what would have been her 100th birthday. But if she missed the milestone, the rest of us can now celebrate her centenary, with the cleverly enlightening "How to Hepburn: Lessons on Living from Kate the Great." Author-essayist Karen Karbo, who has written novels for both adults and middle-schoolers (kids might know her Minerva Clark mysteries), and nonfiction titles including the stirring The Stuff of Life: A Daughter's Memoir, infuses biographical and historical data, film trivia and contemporary acumen into a lively homage that underscores why Hepburn's name should be a verb".
–Book Page
---
"Women wanting the most out of life need only look to Katherine Hepburn for guidance, says Karen Karbo, author of "How to Hepburn: Lessons on Living From Kate the Great," out in May from Bloomsbury. "[She] handily redefined femininity, forced the world to ponder the meaning of marriage and gave generations of women fresh options for surviving middle age and beyond," Karbo says.
–Page Six
---
"Karbo presents all this heterodox advice with great humor, but there's a point she's making to sister Gen-Xers: Hepburn broke all the rules women were supposed to follow and still had a fabulous life."

–Publishers Weekly
---
"Karen Karbo manages to come up with some offbeat gems in her witty new book, How to Hepburn"
–USA Today
---
" …captures Hollywood mores and largely succeeds as an homage to 'Miss Hepburn'."

–New York Times Book Review
---
"In an interesting blend of self-help book and star biography, novelist Karen Karbo seeks to extract lessons from the life of Katherine Hepburn.  "How to Hepburn: Lessons on Living from Kate the Great" is a fun and spunky take on the life of the star."
–Christian Science Monitor
---
"An exuberant celebration of a great original".
–The Philadelphia Inquirer
---
"It should be included with all graduations gifts for all young women"

–boomergirl.com
---
"Karbo admits that, "you don't always have to know what you're getting into in order to succeed," yet through these little witty comments, as told through the eyes of "Kate the Great", Hepburn shows us how she made it work".
–monstersandcritics.com
---
…a delightful, insightful little guide. . .

–Seattle Post-Intelligencer
---
…smart, witty and profound in a low-key way – everything you'd expect in a book by Karbo.

–The Oregonian
---
Disclosure of Material Connection: Some of the links in the page above are "affiliate links." This means if you click on the link and purchase the item, I will receive an affiliate commission. I am disclosing this in accordance with the Federal Trade Commission's
16 CFR, Part 255
: "Guides Concerning the Use of Endorsements and Testimonials in Advertising."