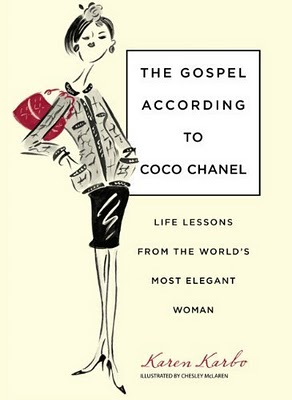 Karbo delivers a mini-biography, with perceptive and amusing commentary... The fashion is merely fascinating, a means to an end. The life lessons? For a woman trying to find a safe haven in America, this book delivers more wisdom --- and wit --- per page than Dr. Phil will dispense in a lifetime.
-www.headbutler.com
About the Book
Delving into the long, extraordinary life of renowned French fashion designer Coco Chanel, Karen Karbo has written a new kind of book, exploring Chanel's philosophy on a range of universal themes – from style to passion, from money and success to femininity and living life on your own terms.
Selected Reviews
Karbo delivers a mini-biography, with perceptive and amusing commentary… The fashion is merely fascinating, a means to an end. The life lessons? For a woman trying to find a safe haven in America, this book delivers more wisdom — and wit — per page than Dr. Phil will dispense in a lifetime.
–www.headbutler.com
Reading Karbo is like listening to a dear friend talk about the legendary designer over brunch. . .This is a fun, insightful look at the genius behind the little black dress.
–The Los Angeles Times
Anyone with a good sense of humor should hugely enjoy, or should I say enjoie, Karen Karbo's funny and stylish take on Coco Chanel. Like a little black dress, this handy life guide will take you from day into evening. K.K. on C.C.: oui, oui!
–Henry Alford, author of How to Live: A Search for Wisdom from Old People (While They are Still on This Earth)
Wise, witty, and refreshingly colloquial, The Gospel According to Coco Chanel is an enchanting tour through the complex, often controversial life of fashion icon Chanel. Filled with relevant life lessons for the modern woman, this book is Karbo at her irrepressible best.
–Hilary Black, editor of The Secret Currency of Love: The Unabashed Truth About Women, Money, and Relationships
Disclosure of Material Connection: Some of the links in the page above are "affiliate links." This means if you click on the link and purchase the item, I will receive an affiliate commission. I am disclosing this in accordance with the Federal Trade Commission's
16 CFR, Part 255
: "Guides Concerning the Use of Endorsements and Testimonials in Advertising."