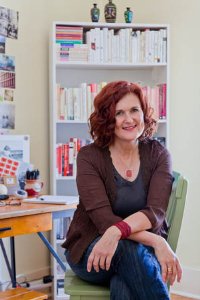 Karen has supported herself as a writer since the days when novels were saved on floppy discs and manuscripts were copied at Kinkos and FedExed overnight to New York editors. She ascribes her ability to live by her literary wits to her personal motto: "The cure for boredom is curiosity. There is no cure for curiosity." (Attributed to Dorothy Parker, but actually coined by Ellen Parr, in Reader's Digest. Way less sexy, but the truth often is.) She is the author of multiple novels, works of creative non-fiction, and a memoir. Her genre-bending Kick–Ass Women series includes Julia Child Rules: Lessons on Savoring Life (2013); How Georgia Became O'Keeffe: Lessons on the Art of Living (2011); The Gospel According to Coco Chanel: Life Lessons from the World's Most Elegant Woman (2009), an international best-seller and a Number One Kindle bestseller; and How to Hepburn: Lessons on Living from Kate the Great (2007), hailed by the Philadelphia Inquirer as "an exuberant celebration of a great original."
Karen's first novel, Trespassers Welcome Here (1990) was a New York Times Notable Book of the Year and a Village Voice Top Ten Book of the Year. Her other two adult novels, The Diamond Lane (1991) and Motherhood Made a Man Out of Me (2001) were also named New York Times Notable Books. (The latter two have just been re-released in beautiful new trade paperback editions by Hawthorne Books.) Her 2004 memoir, The Stuff of Life (2004), about the last year she spent with her father before his death, was a New York Times Notable Book, a People Magazine Critics' Choice, a Books for a Better Life Award finalist, and a winner of the Oregon Book Award for Creative Non-fiction.[1]
Her short stories, essays, articles and reviews have appeared in Elle, Vogue, Esquire, Outside, the New York Times, the Los Angeles Review of Books, Condé Nast Traveler, Salon, Slate, The Nervous Breakdown and other magazines.
Recently, she was one of 24 authors selected for the inaugural Amtrak Residency. She is a recipient of a National Endowment for the Arts Fellowship in Fiction, an Oregon Book Award for Creative Nonfiction, and a winner of the General Electric Younger Writer Award.
When she isn't figuring out what she can write in order to pay for her next trip to the south of France, she rides her daughter's aging Appaloosa gelding, Kramer; bakes blackberry pies (the only kind she likes or has mastered); struggles with her knitting; rereads Joan Didion, Virginia Woolf, early Geoff Dyer, and Lolita.[2] A master scuba diver, Karen's favorite dive occurred off the south coast of Maui, where for an hour in a strong current she flew through the underwater world, over coral gardens and down a shallow sand channel in the company of a pair of green sea turtles. Her favorite magazine assignment was for Budget Travel, documenting a week spent at the Grasse Institute of Perfumery in France, where she learned the basics of perfume-making, and reaffirmed her love of Chanel No. 19.[3]
Karen and The Man of the House (her partner of sixteen years who is computer savvy and internet-shy) are the humans of Penny Lane and Desmond Jones, a Great Pyrenees-Labrador Retriever mother and son pair they rescued from the Great Pyrenees Rescue Society.[4]
Karen grew up in Southern California, and has lived in Portland, Oregon for most of her adult life, and certainly long before Portlandia made it hip. When she told her dad she was leaving LA for Portland he was completely confused. "What are you going to do up there? Log?" (Yes, dad, you know me so well, I'm a logger at heart.) Her interest in cultivating a beautiful garden extends to weeding for forty-five minutes on the first beautiful day in April, then paying someone to help. That said, she is passionate about her community and has served on the boards of the Regional Arts and Culture Council, the Public Art Advisory Council, and is currently on the Board of Literary Arts, where she sits on the Advisory Council of Wordstock, Portland's Book Festival.
---
[1] She has also written a trilogy of middle grade mysteries staring a thirteen year-old detective named Minerva Clark, and her sidekick, Jupiter, a smarter-than-average ferret. The books, written for her daughter who was sort of over Harry Potter after the second book, gave her such great joy to write, and yet here they are in a footnote.
[2] She claims it gets funnier as you get older. Possibly an appalling attitude, but there you have it.
[3] Launched in 1970, when Coco Chanel was 87 years old, the top notes are "green" notes and bergamot, the heart is rose and iris, and the base notes are vetiver, oak moss and leather.
[4] If you're interested in adopting one of these amazing dogs, send Karen an email and she can hook you up. Or, go to Great Pyrenees Rescue Society. These dogs shed like hell, but are as sweet as can be.