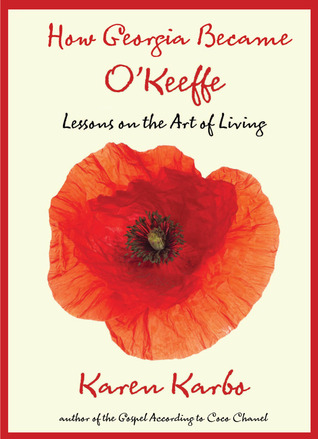 Karen Karbo's fresh and revealing take on the epic life of Georgia O'Keeffe is both effortlessly entertaining and profoundly inspirational. As vivid and original as an O'Keeffe flower, How Georgia Became O'Keeffe offers a quirky, modern view of one of America's most iconic women.
-Sheila Weller, author of Girls Like Us: Carole King, Joni Mitchell, Carly Simon--And the Journey of a Generation.
About the Book
Most people associate Georgia O'Keeffe with New Mexico, painted cow skulls, and her flower paintings. She was revered for so long—born in 1887, died at age ninety-eight in 1986—that we forget how young, restless, passionate, searching, striking, even fearful she once was—a dazzling, mysterious female force in bohemian New York City during its heyday.
In this distinctive book, Karen Karbo cracks open the O'Keeffe icon in her characteristic style, making one of the greatest women painters in American history vital and relevant for yet another generation. She chronicles O'Keeffe's early life, her desire to be an artist, and the key moment when art became her form of self-expression. She also explores O'Keeffe's passionate love affair with master photographer Alfred Stieglitz, who took a series of 500 black-and-white photographs of O'Keeffe during the early years of their marriage.
How Georgia Became O'Keeffe: Lessons on the Art of Living delves into the long, extraordinary life of the renowned American painter, exploring a range of universal themes—from how to discover and nurture your individuality to what it means to be in a committed relationship while maintaining your independence, from finding your own style to developing the ability to take risks. Each chapter is built around an aspect of living that concerns women today of all ages: how to find your own path; work with passion and conviction; express yourself; be in a relationship without sacrificing your sense of self; and do it all with an effortless, unique style.
As with Karbo's previous books, How Georgia Became O'Keeffe: Lessons on the Art of Living is not a traditional biography, but rather a compelling, contemporary reassessment of the life of O'Keeffe with an eye toward understanding what we can learn from her way of being in the world.
Selected Reviews
"In this intimate, joyful, and absolutely fun biography, Karen Karbo shows us why artist Georgia O'Keeffe remains an inspiration for women in search of a self-determined life.  I will immediately pass this book on to my fifteen-year old daughter so that she can learn from this unforgettable original: gifted, independent, daring, her beauty and creativity raw and unadorned, from youth into her old age."

–Julie Metz, author of the New York Times bestseller Perfection
---
Karen Karbo has done what no biographer, social critic or fan has yet been able to do. She's burrowed past the genius and the legend and the clichés and arrived at the heart of Georgia-philia. The lessons she imparts remind us that true independence, like true eccentricity, true beauty and, of course, true love, cannot be faked. They remind us that owning your life requires owning your soul and, beyond that, you don't really need much else. I want to give this book to every young woman I know who's setting out on her own in the world — not to mention the rest of us, who could always use a refresher course on this stuff.

–Meghan Daum, author of Life Would Be Perfect If I Lived In That House
---
How perfect that a writer as thoughtful, original, and hilarious as Karen Karbo takes on as a subject as talented, passionate, and fearless Georgia O'Keeffe. The result is a fresh, funny, highly personalized take on "the nation's greatest woman artist," a meticulously researched, page-turning romp through the life of a painter whose days were as bold and unique as her art.

–Cathi Hanauer, author of Sweet Ruin and editor of The Bitch in the House
---
"Karen Karbo, the author of The Gospel According to Coco Chanel ponders what it is about O'Keeffe that speaks to us so deeply and what went on inside the artist to allow her to defy society's conventions and be so 'resolutely herself' in the service of an abiding passion. This intimate, quirky, and sassy essay makes its iconic subject into an accessible, relevant figure with whom readers can identify."

–Publisher's Weekly
---
"She followed her own rules, and got away with it," Karen Karbo says of Georgia O'Keeffe, referring to the artist as "the poster child for doing exactly what you want, in the service of an abiding passion." Karbo's innovative How Georgia Became O'Keeffe, told with great wit and hilarity, delves beyond the facts of its subject's "art star" status in order to better understand her choices: why she lived and painted the way she did; why she endured a tumultuous, codependent artistic and romantic relationship with the father of modern photography, Alfred Stieglitz; and how she maintained her sense of self and authenticity throughout.Karbo's personal admiration for the bold, fearless O'Keeffe leaps off the page. A single verb introduces the theme of each chapter, comparing the artist's challenges with those that plague creative women today. Karbo explores O'Keeffe's artistic influences while reinforcing that, although she came from a sensible, hardworking, middle-class family, she continually took risks and defied the expected conventions of womanhood in order to nurture and preserve her ideals of self-expression.This is the final installment of Karbo's "kick ass women" trilogy, following biographies of Katharine Hepburn and Coco Chanel, two other strong, independent women who forged their own paths by living true to themselves. While O'Keeffe is already revered by millions of women and aspiring artists everywhere, Karbo's original, wry analysis is bound to enrich her status even further

–Shelf Awareness
---
Anybody feel the need to know one thing more about Georgia O'Keeffe?
How about Coco Chanel?And, while we're at it, let's throw in Katharine Hepburn.I can't think of three women who have inspired more commentary and speculation.(Okay, the Kardashians. But otherwise….)So why have I devoured Karen Karbo's mini-shelf of bios about O'Keefe, Chanel and Hepburn?For very good reasons.

l) Karbo is a demon researcher who never sprains her arm patting herself on the back in praise of her library time.

2) Karbo's books are short — her latest, "How Georgia Became O'Keeffe: Lessons on the Art of Living," is, like its predecessors, pocket-sized, and yet it's just 221 pages.
 
3) Karbo always has a reason for writing you haven't heard before. In these books, she says, "I would not only figure out how I should live, but also, that some of their luster might rub off on me, and by extension, you."

4) Karbo writes like nobody else. She gives you O'Keefe, but she also serves herself up in relation to O'Keefe, woman to woman, as it were. Others do this, and the charm is so obviously fake; Karbo serves up more rueful memories: the dateless high school years, thyroid surgery, going on the O'Keefe trail in an RV.

Of the trilogy, the O'Keefe may be the most useful. Hepburn came from a family so privileged that she referred to family friend George Bernard Shaw as "Shaw." Chanel was a dirt-poor orphan. O'Keefe, in contrast, had a reasonably normal American childhood — we have no trouble understanding that part of her life.

Then O'Keefe steps into her own, wonderfully exciting "I gotta be me" zone.

Samples:

When money was tight, she made her own clothes — including her underwear.

Alfred Stieglitz — her lover, mentor and husband — wrote at least 50,000 letters. "Those letters were Angry Birds and I Can Has Cheezburger and American Idol and retail therapy, and everything else we moderns like to do."

"The greatest aphrodisiac is vitality." That sentence alone is worth the price of the book.

The "epic marriage" of Stieglitz and O'Keefe: "She was the red Porsche purchased by a middle-aged man; he was the football hero who falls in love with the awkward new girl in school."

At the marriage ceremony, she refused to say "honor" or "obey."

Yes, there's the standard stuff you want and need to know: the paintings, the photographs, her love of the Southwest. All presented lightly, effortlessly, casually, colloquially. "For O'Keeffe, forty was the new sixty," Karbo writes. That's not being cool. That's just style.

After you finish the O'Keefe, you may want to go on to The Gospel According to Coco Chanel: Life Lessons from the World's Most Elegant Woman and "How to Hepburn: Lessons on Living from Kate the Great."

Taken together, they make a fourth book: "The Life and Times of Karen Karbo." It's just as good as the others.

–The Headbutler
---
There are many, many books on the life and work of Georgia O'Keeffe – so many in fact that there are multiple pages of listings on Amazon…. Her visionary brilliance as an artist, her fierce independence as a woman, and her turbulent relationship with Alfred Steiglitz give her a mysterious aura that fascinates us all. It is almost a wonder that there is anything left to write about her. And yet, this did not faze Karen Karbo when she decided to put her own spin on the life of this artistic legend.
Karen Karbo
 is the author of 
The Gospel According to Coco Chanel
 and 
How to Hepburn
. She has a unique gift for biography, crafting a narrative that both delights and amuses the reader, as well as mining that person's life for nuggets of inspiration and life lessons. (Read my January 2010 interview with her 
here
). When Karen wrote to me about her new book, I knew that I had to put down my scholarly journals and get this book, especially since Georgia O'Keeffe's flowers were a huge source of inspiration in my earliest painting attempts. Not yet available in Canada, I ordered 
How Georgia Became O'Keeffe: Lessons on the Art of Living
 on Amazon and it has been my company in the wee hours of the morning during my latest bout of insomnia.
Although I am not yet finished the book, I've read enough to know that this is another gem. Karen has a unique voice and is both frank and funny in her analysis of the realities of Georgia's life. One passage that encapsulates Karbo's style of writing is this analysis of Georgia's defiance of conventional standards of feminine beauty:
"With her fabulous rawboned frame, straggly brows, and schoolmarm's bun, her black vestments, man's shoes, and odd assortment of hats and turbans, O'Keeffe was out there. There was no one like her, then or ever. A few months before she left her teaching post in Canyon, when someone mustered up the nerve to timidly ask her why she wore her hair that way, O'Keeffe said, "Because I like it." Freeing herself from the endless demands of looking like other women released her into a parallel, and freer, universe. After people adjusted to her curious look, they accepted it and expected nothing else." (pg 13)

–Fashion is My Muse
---
You'd have to be living under a rock to have not ever seen any of this iconic artist's works of art. Her name is synonymous with vivid colorful flowers, organic otherworldly depictions of sun-bleached animal skulls floating over southwest mesas. She lived to a ripe old age just a few years short of 100. She was well known, yet very private and reserved, focusing on her art and doing whatever she wanted to do.Author Karen Karbo offers a fascinating account of Georgia O'Keeffe's life. With great wit, humor and interesting details, this was a delight to read. In How Georgia Became O'Keeffe we get a bit more insight into her odd, challenging longtime relationship with another iconic character, Alfred Stieglitz, who was old enough to be her father and had a penchant for young impressionable women. Stieglitz was O'Keeffe's mentor, lover and greatest patron of her art, as well as her husband. Yet Stieglitz strove to portray O'Keeffe and her art as a creation from a brainless beautiful ingénue teeming with raw sexuality. O'Keeffe worked very hard to recreate her presence in the art world from the standpoint of a strong independent empowered woman.This is a great read. Art lovers would most definitely enjoy the full-color photos of O'Keeffe and some of her works, and women seeking strong female role models would appreciate this book as well.

–City Book Review
---
In her new book, How Georgia Became O'Keeffe, writer Karen Karbo traces the life of a Midwestern farm girl as she becomes a self-assured art world phenomenon and an utter original. Here Karbo shares insights for any woman hoping to follow Georgia's lead.Aim High
At the age of 12, O'Keeffe was already telling people she planned to become an artist, even though, Karbo writes, that was the "equivalent of a modern preteen girl aspiring to be an army five-star general or an NFL quarterback."Let Your Freak Flag Fly
"With her fabulous rawboned frame, straggly brows, and schoolmarm's bun, her black vestments, man's shoes, and odd assortment of hats and turbans, O'Keeffe was out there," Karbo writes. "After people adjusted to her curious look, they accepted it and expected nothing else."Play Hard, Work Hard
"Georgia was a proto slacker," writes Karbo. "There were days and weeks when she would read, spend hours tramping around outside, write letters, sew, and play dominoes…. But when Georgia worked, she worked her ass off."

–O Magazine
---
I don't believe in making New Year's resolutions. It's in part because I find them common and tedious (the clichéd promises to lose those last 10 pounds, eat healthily, stand on your head), and in part because I don't keep them—as invariably what I'm resolving to do involves ceasing to engage in some unpleasant behavior I rather enjoy, and not doing it makes me unpleasant. Which isn't to say that I'm not constantly seeking to better myself.
One writer who is leading by example is Karen Karbo, whose new book, How Georgia Became O'Keeffe (Skirt!)—in the same clever vein as her How to Hepburn and The Gospel According to Coco Chanel—is simply a revelation. A witty writer with a seemingly inexhaustible patience for research, Karbo celebrates the life of artist Georgia O'Keeffe, whose surreal Southwestern landscapes and large, boldly erotic, distinctly female flower paintings set her apart from the slash-and-splash modern-art scene, and earned her as much attention and respect as her male peers. Radical! Like Karbo, I find O'Keeffe's legendarily prickly and independent nature, flouting of convention, and embrace of solitude and aging—her wrinkles famously captured by her husband, photographer Alfred Stieglitz—worthy of emulation. As a writer, I can't help but admire the skillful way Karbo manages to weave her history with O'Keeffe's, showing how the painter's conviction to tread her own path helped the author to do the same. As O'Keeffe said, "Whether you succeed or not is irrelevant . . . making your unknown known is the important thing."

–Elissa Schappell, Vanity Fair
---
Disclosure of Material Connection: Some of the links in the page above are "affiliate links." This means if you click on the link and purchase the item, I will receive an affiliate commission. I am disclosing this in accordance with the Federal Trade Commission's
16 CFR, Part 255
: "Guides Concerning the Use of Endorsements and Testimonials in Advertising."