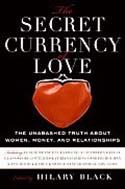 Multiple themes are explored in personal and heartfelt ways: money is success, failure, control, submission, love and hate. Money can mean the chance at motherhood or the ruin of a marriage. In the end, money is everything and nothing.
About the Book
Money. It affects us all, so why is it so difficult to discuss? Even as daily headlines broadcast ever more alarming news about the fate of the American economy, few people are willing to acknowledge the enormous impact that personal finance has on their private affairs. Until now.
In this compelling anthology of original essays, some of the country's most respected women writers reveal their deepest feelings about money and how it affects their most intimate elationships—with parents, children, spouses, siblings, and ultimately with themselves. They examine the childhood experiences that set up lifelong, and sometimes self-destructive, financial habits. And they divulge how all the intangibles—romance, status, ower, security—become tangled up in their financial lives.
The essays in these pages are written from many different perspectives: a single woman trying to reconcile feminism with a secret desire to be supported by a man; a wife with radically different spending habits from her husband's; a divorcée who has become the family's chief breadwinner; a single mother struggling to make ends meet.
Witty, nuanced, and startlingly intimate, The Secret Currency of Loveoffers a transformative look at the delicate nature of love and money. This riveting collection will spark debate by inspiring readers to reexamine their own emotional connection to their finances. As Americans struggle to make rational choices in a frightening economy, these brave, revealing essays by some of today's most esteemed writers provide insight into how a modern generation of women is defining itself in the new social economy.
Disclosure of Material Connection: Some of the links in the page above are "affiliate links." This means if you click on the link and purchase the item, I will receive an affiliate commission. I am disclosing this in accordance with the Federal Trade Commission's
16 CFR, Part 255
: "Guides Concerning the Use of Endorsements and Testimonials in Advertising."