If you want to truly unplug from your life and plunge into a new, intoxicating environment where you can refresh yourself as a writer, Karbohemia is the experience you want. — Return to the Tactile Participant
Since 2010 we've been spending a month or more in the tiny village of Collioure, in the deep south of France. It's one of those places where life seems to fall naturally into balance. Regardless of weather, the morning is always ravishing. Turquoise sky, pink clouds. Coffee from Portland (the French do many things well, but coffee isn't one of them), then a stroll down the hill to the "good" boulangerie for fresh croissants. Linger over breakfast. Tiny jewel-like raspberries, when in season, are the star of the meal. Do a little writing. Tromp down to la plage du Faubourg. Sometimes, the saxophone guy is standing in ankle-deep water playing Coleman Hawkins. Swim to the buoy, then back. Paddle around until fingertips get pruney. Restore equilibrium with a glass of Perle de Collioure at the St. Elme. Hike home. Nap. Decide on dinner, then don't do much about it. Sit on the terrace and watch the birds fly past, the sun laze along. More wine. More talk about the evening meal. We eat: salad nicoise; roast chicken; prawns. Paella. Tapas. The house wine is "two buck chuck," otherwise known as a light, dry sweet pink rose that sets us back 2.99 euros a bottle. We sleep well, with the windows wide open, and in the morning complain good-naturedly about mosquito bites.
View this post on Instagram
Every year I've felt as if I should share Collioure with other writers, but between the sun, the sea, the wine, and all the village dogs who needed to be petted and admired, the idea would float to the back of my mind, lodging itself among other tasks that required a calendar and a laptop. But this year it felt urgent. 2018 was a someday is now kind of year.
In September I held my first Karbohemia Retreat, Return to the Tactile. A writing workshop with a twist, a deep focus on experiencing the physical world and rekindling our relationship with our senses. The more screen-focused our lives have become, the less in touch with are with the things that bring us simple enjoyment. We're all stuck in our heads. I see it in myself, and in my students. Did you know we check our phones an average of 80 times a day? What is happening to us?! This isn't good for our bodies. This isn't good for our minds. And it really isn't good for our writing, which depends on our ability to describe our three-dimensional human experience.
I want to do my part to right this wrong, or adjust it a little, anyway.
Ten people from San Francisco, Los Angeles, Portland, New York City, Denver, and Dallas joined me in Collioure for a full week. We wrote and workshopped every morning. In the afternoons, we swam, hiked, caught the end-of-harvest wine pressing at Mas Christine. We partook of massages. We rode le petit train touristique through the steep vineyards to Fort Saint-Elme, a 16th century mountain top fortress built by Charles V.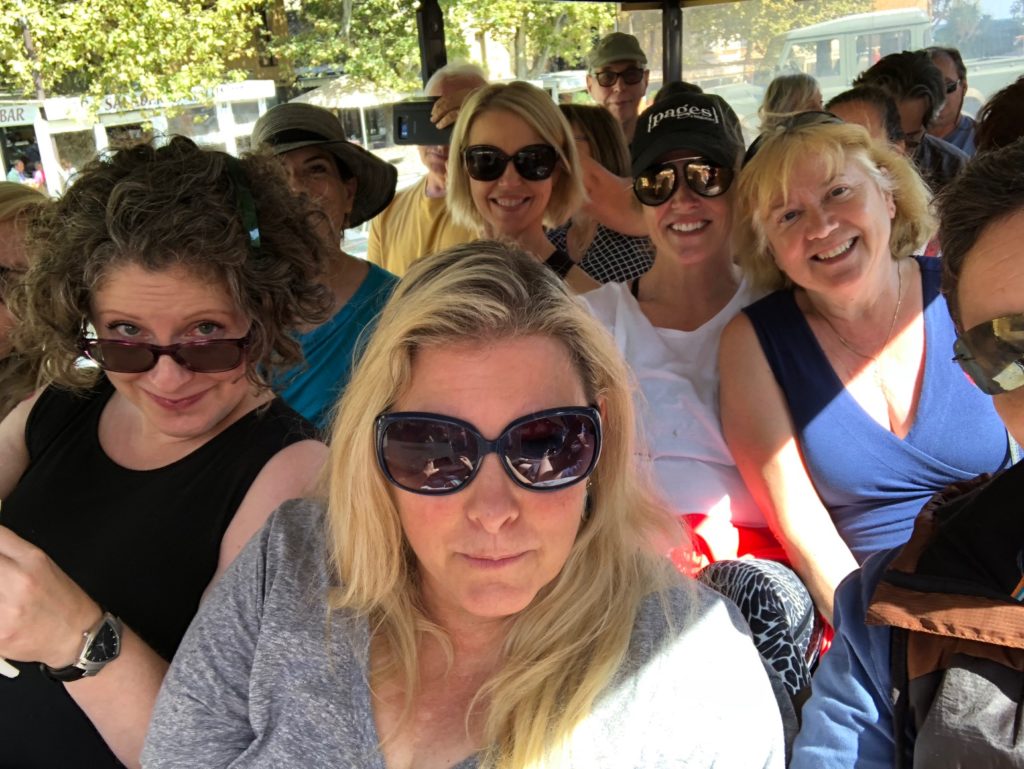 The writing is "what we shouldn't ever speak about" and "what we're afraid of" and "what we have yet to figure out." This is where Karen Karbo's masterful teaching and depth of writing experience took us. It was on the body and of the earth and sky and sea – all pink and midnight and mauve in a landscape that's inspired art and war in equal measure. Breathtaking is too small a word. Long live Karbohemia. – Jenny Forester
Then there was the food. This was France. You cannot possibly immerse yourself in all it means to be human without great food. The Catalan influence is everywhere. Seafood is a stable, grilled with local olive oil, garlic, and onions. The produce is stupendous and cheap –apricots, raspberries, cherries, eggplant, green beans, and elegant little potatoes. Don't forget cheese, bread, and wine. To take full advantage of this bounty, and in a genius move, I brought Portland-based chef Emily Park to Collioure to make sure we were well and properly fed. Her food made us swoon.

I'm in the process of creating my next retreat in May, but this time it will be called COME TO YOUR SENSES and you are among the first to be invited. There are 10 spots. Interested? Email me.