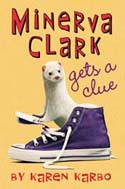 Minerva Clark is a typical thirteen-year-old girl: she hates her hair, she hates her legs (which somehow manage to look both too fat and too skinny at the same time), and don't get her started on her gigantor bootie. On top of all this puberty, she's being raised by three older brothers, none of whom really get her.
But when a fateful encounter with a lightning storm rewires her sense of self, Minerva Clark becomes anything but a typical teen.
With a brazen new attitude and a nose for trouble, Minerva soon finds herself drawn inexplicably to the scene of a murder and determined to track down the killer. If only all the clues weren't pointing so close to someone she knows...
More info →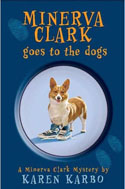 Minerva Clark has never liked popular, bratty Chelsea de Guzman. But when Chelsea pleads with Minerva to help her locate a missing diamond, the prospect of a new mystery is just too irresistible to pass up, especially after Minerva learns that it's a red diamond and potentially worth millions. Before long Minerva is doing what she does best: getting into trouble while getting to the bottom of things. And whether that includes digging through a day's worth of trash, tangling with some crooked animal shelter workers, dodging three mischievous corgis, or tracking a carrier pigeon with intestinal problems, Minerva is determined to get her man—or his best friend…
More info →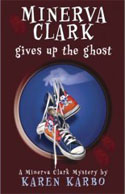 Minerva Clark's yoga-instructor mom has returned—with a new husband in tow. As if that isn't a big enough shock, there's a surprise of the supernatural sort in store for the self-made teen sleuth. It seems the owners of a haunted grocery store are missing their ghost, and they need Minerva's help in finding it. But before she can come up with the ghost, Minerva will need to find the arsonist who burned the grocery store to the ground—claiming an innocent life in the process. Danger, laughs, and a touch of freezer burn await readers in this newest adventure from the big-haired case-cracker.
More info →