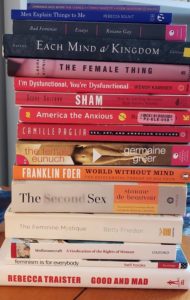 Why hello giant stack of research materials! Disappearing into reading for m'next book in three…two…one…
Look for YEAH. NO. NOT HAPPENING, a "funny, philosophical, feminist rant against the tyranny of self-improvement" in Spring 2020…provided we're all still here.
The official blurb for YEAH. NO. NOT HAPPENING — a humorous feminist manifesto about swearing off self-improvement and learning how to own and appreciate our flaws by taking a clear-eyed critical look at the role of cultural, societal, marketing, and media influences mandating that we spend endless time and money to "fix" ourselves.