No one knows how to vacation better than the French. Unlike the Spanish and the Italians, who are sort of always half-vacationing, the French work hard during non-holiday/non-vacation times. They would never admit this. If you were dangling a Frenchman over a cliff by his ankles, demanding in your high-school French that he fess up to working as hard as any American, he would rather take his chances, counting on his beret to cushion his fall. (I jest: no French person I know wears a beret, nor do they go hon hon hon when they laugh.) It's just not done, admitting you're a hard worker in France. Those in the professional classes do like to brag about how many people they manage, which is a way of saying "See how I make other people work hard, but not me!"
Les Grandes Vacances are the summer holidays. They begin after high-school students have received their final-exam scores, the first week in July (this year le bac was cancelled, possibly the only nice thing that has happened to teenagers during the pandemic), and end at la rentrée, the first week in September, when everyone rushes back to school and work. During Les Grandes Vacances, the French take their mandatory five weeks. The people who vacation in July are known as the Juilletistes, and the people who vacation in August are known as the Aoûtiens. (It's a quibble, but if everyone goes away for five weeks, there's got to be a one-week overlap in there somewhere.)
Here in Collioure, it's a solid two months of Fort Lauderdale-style spring break. Aside from the bedlam, it's refreshing to watch French parents prioritize their own summer fun over everyone else's, including the kids'. They plow through paperbacks while baking in the sun, engage in splashing-dolphin fun in the sea, regardless of the state of their beach bodies, and tuck into big meals at 10 P.M., while their sleepy, sunburned children nod off over their frites. The lines for ice cream are so long you would think Bruce Springsteen was behind the cold case, dishing up the scoops.
It wasn't always this way in the South of France. A hundred years ago, no one would have been caught dead on Mediterranean beaches in the summer. Hotels CLOSED in the summer. Do you know who lay on the beach in August? No one. (Crazy locals, but they didn't count.) Collioure, four villages away from the Spanish frontier, was nobody's idea of a vacation destination. It was a wee Catalan fishing village. Artists knew about the place—Henri Matisse, André Derain, and others had reinvigorated their painting careers and changed the trajectory of modern art here in 1905—but otherwise the beach was a parking lot for anchovy boats. Before that, the heyday of Collioure as a hot summer destination was the fourteenth century, when Jaume II, King of Mallorca, built the Château Royale.
Then, in the 1920s, came Americans Sarah and Gerald Murphy. They were among the expats who left America for Paris after the war. Their pal Cole Porter had found a sweet spot called Antibes. European one-percenters had been coming to the Riviera in the winter for some time, but in the summer the beaches were deserted.. The Murphys begged one hotel to remain open, and the party started. Every cool person in the entire nation found their way to the Riviera beach party held by the Americans. They picnicked on the beach, they tanned, they swam, they listened to jazz records on a portable phonograph (get out).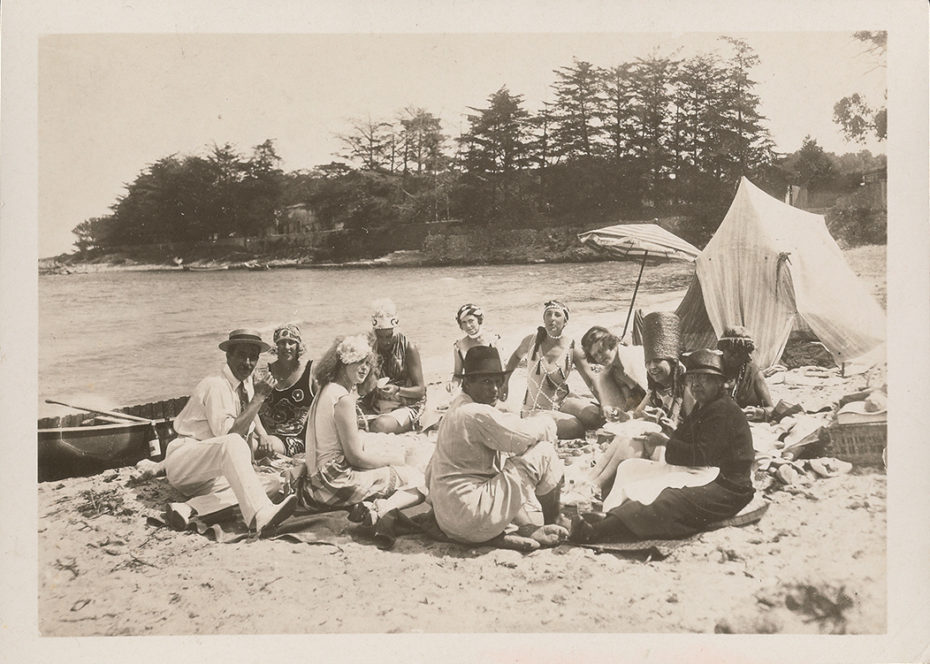 August is complicated for me. I'm completely summered out by August. I'm tired of wearing the three sundresses I purchased online five years ago for ten bucks, convinced they wouldn't survive more than one washing. I'm really sick of watering the plants. In Portland, it is the month of heat waves. I was happy to hunker down in front of our sad, shivering, fifteen-year-old window box air conditioner. I pretended I was in a submarine. It was a great month to work. Here, it requires the discipline of a fat monk on a diet not to join the nonstop party. Yeah, I know, whining on the yacht, but here is my typical August day:
8:00 A.M. Swim.
9:00 A.M. Walk the dog.
9:30 A.M. Croissants and Spelling Bee (New York Times).
10:00 A.M. Write as fast as I can, knowing the social whirl is cranking up even as I type.
12:00 A.M. Make locally admired guacamole for lunch with neighbors (not too spicy).
1:00 P.M. Lunch with neighbors / graduate-level French-conversation seminar (as I think of it). Drink rosé.
5:30 P.M. Feed the dog, check email, feel guilty for not working, think: Just because everyone else is on vacation that doesn't mean I'm on vacation. Nor am I retired. Check bank balance. Open another bottle of rosé.
6:00 P.M. Pétanque. Watch Man of the House hold his own with the French guys who've been playing their whole lives. Celebrate his win with a glass of rosé.
8:15 P.M. Pétanque match over, repair to another neighbor's house for the obligatoire après-Pétanque apéro that turns into dinner / graduate-level French-conversation seminar. Drink rosé.
1:00 A.M. Bed.
---