The fantasy dive-trip cocktail — take 1,190 coral outposts in the Indian Ocean, add one deluxe catamaran, one dive dhoni, a large splash of sapphire-blue water, and stir.
| | |
| --- | --- |
| I've wanted to visit the Maldives since cruising past them when I was a college junior enrolled in Semester at Sea. On its way from Mombasa to Sri Lanka across the Indian Ocean, the SS Universe traveled through the northernmost atolls of the archipelago. I stood at the railing, gawking as we passed one small island after another, all identical, each with its tidy white beach ringing a grove of coconut palms. My Asian-literature professor, a wiry surfer turned Ph.D., joined me beside the rail and said, "It's the closest thing on earth to a country consisting entirely of ocean." After I learned to scuba-dive, I noticed that the Maldives, home to hundreds of islands with virgin reefs, showed up regularly on lists of the world's great dive destinations. | |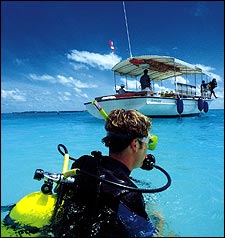 And now, I'm on one of those reefs…I think.
During my check-out dive on the first of four days aboard the Four Seasons Explorer last July, I suddenly don't know where I am. It's the same disoriented feeling you get when you wake up in the middle of the night in an unfamiliar hotel room. My dive computer reads 86 feet. Beneath me languishes a coral garden that's suffered from a serious bout of bleaching. The coral is dingy, nothing like the crazy quilt of colors featured in Discovery Channel documentaries. The water is warm; the current, drowsy. What reef is this, fringing what country in what ocean? I'm breathing fast, a precursor to panic. Later I'll remember that divers are more susceptible to disorientation when physically exhausted, and I have a hefty case of jet lag: The Maldives are 14 hours ahead of my home in Portland, Oregon, about as far away as you can get without leaving the planet.
I glance around for my dive buddy—before this dive an absolute stranger—and motion that I need to ascend now. We drift up and at 50 feet are caught in the middle of a huge school of fusiliers, as dense as rush-hour traffic. We are at the center of their energetic orbit; it's like being on some dizzying amusement park ride. We swim on our backs, staring up at the electric-blue fish. The reef below us and the ocean's surface are blotted out in a piscine eclipse.
My brain resets. I remember that I'm on a sweet Maldivian reef called Kamadhoo, and that my buddy is named Martin. He's from Montreal, bears a resemblance to the late JFK Jr., and is a dive instructor on the Explorer. My breathing slows.
From the air, the Maldives look like a bead necklace dangling from a hook, a long, narrow collection of 1,190 coral islands, about 500 miles from end to end, 80 miles wide, and 360 miles southwest of India. The islands, only about 200 of which are inhabited, are clustered into 26 atolls. The creation of the atolls remains a mystery, but Charles Darwin believed they were the outlines of ancient volcanoes. (The word atoll is one of only two words in the Oxford English Dictionary derived from Dhivehi, the Maldivian language; it comes from the word atholhu. The other, rufiyaa, is the nation's basic monetary unit.) There are 115 square miles of land in the entire country, and every bit is the same: a low-lying coral island no more than 4.5 miles long. Every resort, village, and factory has its own island. The nation's single international airport is on a different island from the capital, Male (pronounced MAH-lay). Even the jail has its own island.
This, coupled with the fact that the national religion is Islam, makes traveling here a challenge for the average Westerner. While the government welcomes tourism, it's leery of the effect of too many visitors on the Maldivian social structure and the fragile ecosystem. (It's the only country I've visited where my luggage was x-rayed and inspected upon arrival; alcohol and any kind of religious material for distribution are forbidden.) Male is relatively open to visitors, but anyone who wants to see the rest of the country must sign on for a stay at one of the 87 or so resort islands, which run the gamut from basic to sumptuous.
The Explorer is one answer to the visitor's dilemma. Each week the 128-foot, 11-cabin luxury catamaran departs from the Four Seasons at Kuda Huraa for a swing through the rarely visited islands to the north and south. Although the boat's raison d'être is scuba diving, there's also plenty of opportunity for snorkeling, kayaking, and fishing. There's a lounge with comfy sofas and a DVD library rivaling that of any film nerd. There's also a massage therapist on board.
Dives are done from the dhoni, a smaller boat that can anchor closer to the reefs. When we emerge from the water, the crew offers us chilled bottled water and cold, lemon-scented washcloths, which they serve from a small tray with silver tongs. By dhoni standards, our boat is very fancy, with its lacquered woodwork and cappuccino machine. Chris Ellis, the Aussie captain, has dubbed it the Ferrari of the Maldives.
I'm the fifth wheel on the Ferrari this week. The other divers are two couples: Brazilians on their honeymoon (he owns a bank; she's an attorney at the law firm that represents it) and Russians (he owns an airline; she's a flight attendant on one of his planes). Otherwise, there are the dive instructors, Martin Lavoie and his handsome Maldivian colleague, Mohamed Niyaz, who goes by his last name, and about a dozen happy-go-lucky Maldivian crew members. Between dives they tease us, rushing to the bow and clapping their hands and whistling. Dolphins! We hustle out of our gear, trip over ourselves to see what they've spotted, and of course it's nothing. They laugh and high-five us. Every one of the Maldivians has astoundingly white teeth. The diet here consists mainly of fish and coconuts, so it's no wonder.
On the second day, after a breakfast of pancakes, pineapple, and yogurt, we board the dhoni and putter out to Fushifaru Kandu for a channel dive. Between every set of islands there's a kandu, where bustling currents press through narrow openings lined with jagged walls, submerged pinnacles, and overhangs. In the Maldives, way out in the Indian Ocean, currents are not to be trusted. As we drop anchor, Niyaz pops overboard to make sure this one won't catch us in a whirlpool.
While we wait, I fret with Bernardo, the Brazilian bank owner, about the state of the reef. He's also noticed the sad lack of color. "It seems haunted," he says. In 1998, thanks to global warming, one of the worst worldwide episodes of coral bleaching left the Maldivian reefs in a pathetic state. A healthy reef is a riot of color: violet, periwinkle, orange-red, maroon, ocher. A bleached reef is a graveyard, bone-white in the places where it isn't enshrouded in rusty brown algae.
Coral isn't a plant, but a colony of polyps. Each polyp is a tiny greenhouse for zooxanthellae, a species of algae. Coral is as temperamental as a racehorse: The least change in water temperature causes the resident algae, which provide coral's color and 90 percent of its food, to panic and flee. Coral in this state starves to death, unable to live without the zooxanthellae it hosts. In the 1998 bleaching episode, 90 percent of the branching coral on some reefs was wiped out. And as the reefs disintegrate they cease to provide the wave break that keeps the low-lying Maldives from eroding and disappearing entirely.
Niyaz gives the OK sign. The current is dreamy; the dive will be a nice, slow drift. We descend to 90 feet and I float near the reef, looking for signs of life. I'm certain that I'm missing the so-called action, the sight of a big shark cruising by, and sure enough, once we're back on board I hear about a trio of small black-tip reef sharks and a large and unusually friendly hawksbill turtle. I wipe my face with my lemony washcloth. I have nothing to report.
THAT AFTERNOON, the Explorer stops at Kendhoo, in the northern half of Baa Atoll, population about 800. In deference to the culture, female visitors are asked to wear clothing that covers our shoulders and knees. We are greeted by a somber delegation of gentlemen in plaid shirts bearing trays of orange coconuts, each with a plastic straw stuck into a hole in the top.
Children stare, and when we look their way they try to hide behind one another's skinny shoulders. There are no cars on Kendhoo. The sea is visible at both ends of the main street. Michael Clarke, the Explorer's New Zealander cruise director, gives us a tour. We saunter past the sandy soccer field, home turf for Kendhoo's two rival teams, the Young Boys and the Champions.
Kendhoo's school is a low, whitewashed building arranged around a courtyard. Despite the heat, the students' uniforms are clean and pressed. On a bulletin board, an art display featuring a hand-drawn hawksbill turtle admonishes the students to refrain from eating turtle eggs. "It's an attempt to solve a local problem," Michael says. "The hawksbill is endangered, but turtle eggs are a traditional Maldivian delicacy. In exchange for this campaign, we're helping build them a new classroom."
It turns out the Four Seasons is more than exotic spa treatments and memorable bottles of wine. Armando Kraenzlin, the Swiss general manager, knows his resort wouldn't stay in business were it not for the health and well-being of the Maldivian ecosystem. To this end, he contacted Seacology, a nonprofit conservation group in Berkeley, California, dedicated to preserving island habitats and cultures by giving residents something tangible in exchange for their commitment to protect their environment. In this case, Seacology will build the classroom in trade for the self-enforced ban on eating turtle eggs.
At the end of another street there's a table set for us to take tea on the beach. Plates of tangy vegetable samosas and sweet foni hakaru (deep-fried coconut balls) sit on palm-frond placemats. There's also something square, pink, and cake-like. I ask Niyaz what this exotic dessert is called.
"Why, it's cake," he says in perfect English.
"Yes, that's the one I mean. The pink, square thing that was kind of crumbly and sweet."
"We call it cake."
"Yes, it is cake, but what's the Maldivian word for it?"
"Cake."
"Cake? What makes it pink? Guava or something?"
"Food coloring," he says, with a wink.
There's a picnic lunch and sea kayaking planned the next day. Inside the atolls the water is serene, perfect for paddling; the visibility is good enough to spy lionfish and black-and-white clown triggerfish beneath your kayak.
At around 11, a deckhand named Hanna Husain—another trim boy with impeccable manners and gorgeous dentition—takes the Zodiac to a nearby island to set up lunch. The heat is dense. Dirty-looking clouds hug the horizon. The Zodiac is loaded with lacquered bento lunch boxes and a huge white tent.
I go along for the ride and then persuade Hanna to leave me here while he returns to the Explorer for the kayaks. I walk the perimeter of what I pretend is my own island. The only footsteps here are mine.
Suddenly I see a Zodiac tearing across the lagoon from the direction of the Explorer. Michael Clarke has come to collect me. "You've got about three minutes before the rain," he says. Halfway back the wind kicks up and we're pelted with nickel-size drops. On board the boat, the black metal deck chairs have been blown into a heap. Not an hour later, the sun reappears.
ON OUR LAST EVENING, we sit on the deck drinking iced tea, snacking on cashews and Greek olives, and watching the enormous Maldivian fruit bats fly between islands. It has been a day of note. In the morning, on a dive at Ohluhali Caves, at about 65 feet, we spied a spectacular field of periwinkle coral hugging the underside of an overhang. It was bright and lush; we were dazzled. We kept pointing it out to one another. A few white-tip reef sharks cruised past, but I'm not sure anyone really noticed. This was some good-looking coral, and it gave us hope that the reefs in the Maldives are on their way back.
The crew is getting ready to take the Ferrari of the Maldives out for the evening. This may be a dry nation, but the boys are firing up the cappuccino machine, in anticipation of courting the local ladies. They yell to one another as they prepare the dhoni for departure. Dhivehi is a musical language, sounding to the untrained ear something like bompbompbabomp, adingadingdong, dangadongdong. It's hilarity itself to take a stab at pronouncing the names of some of the atolls: Ihavandhippolhu, Maamakunudhoo, Faadhippolhu.
I do learn to say one thing: baraabaru, which means "excellent." In the Maldives, it's a handy thing to know how to say.