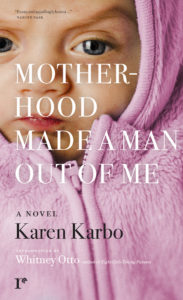 Brooke and Mary Rose are best friends. Brooke is the mother of a six-month-old. Mary Rose is pregnant. Brooke is married to Lyle, though, at times, she wonders why. Mary Rose would be married if Ward, the father of her child, weren't already. Ward and Brooke are cousins… A comedy of manners and biology, Karbo gives a laugh-out-loud look at the wonders of pregnancy and motherhood. It is a world where the women are fierce and strong and the men duck and cover; a world that is turned upside down when the expecting mother turns out a most unexpected child. Motherhood Made a Man Out of Mecelebrates the courage and strength of women and the bonds that join them "in the motherhood."
Coming October 2016
PRAISE FOR MOTHERHOOD MADE A MAN OUT OF ME
If Carrie Fisher wrote with depth as well as wit, she would probably turn out to be Karen Karbo.
SEATTLE TIMES

---
Motherhood Made a Man Out of Me is a funny, wise novel about more than simply gender. Karbo uses her wonderful narrative voice and her penetrating wit to find her way to the universal secrets of the self.
ROBERT OLEN BUTLER

Author of A Small Hotel
---
The subject of pregnancy and motherhood so easily lends itself to laughter though it has taken a novel as good as Karbo's to remind us of that fact. But the beauty of her book is that underneath the lightness is a deeper, moving tru6th that never lapses into sentimentalist. She's our Erma Bombeck – a funny, uncensored chronicler of what happens after the fairy tale ends and life begins.
WHITNEY OTTO

Author of Eight Girls Taking Pictures
---
Is there any aspect to being a mom—stretch marks, fat sagging over the top of the elastic waistband, baby spit-up everywhere—that Erma Bombeck hasn't already trampled into the ground? Fortunately, yes. Motherhood Made a Man Out Of Me should be clutched to the ''corn-silo-sized'' breasts of every new mother.
THE NEW YORK TIMES

---
Karbo (The Diamond Lane) is at her best writing tongue-in-cheek riffs on sports and modern life and manages a successful marriage of the two in her sassy, satirical new novel. (She) relishes her characters' war stories of pregnancy and labor; the novel, without taking itself too seriously, proves in its cheeky details a fun (and accurate) sendup of the timeless trials of womanhood.
PUBLISHERS WEEKLY

---
Karbo's third novel (after The Diamond Lane and Trespassers Welcome Here) is an uproariously funny yet frank take on modern motherhood. While she carves her commentary with a razor wit, the author serves up equally sharp insights into the intense kinship among pregnant women and new mothers. Karbo… has a topnotch ear for dialog and a sense of humor. This gem will keep readers in stitches from beginning to end and belongs in every public library.
LIBRARY JOURNAL

---
[A] witty and astringent take on motherhood, crackles with insights and humor…
KIRKUS REVIEWS

---
Karen Karbo is a very funny writer – from near slapstick to wry wit. Amazing.
THE NEW YORK TIMES

---
In order to transcend the monolithic mommy story you have to reach down in there and wrestle it away from the mouth of American culture. Karen Karbo's Motherhood Made a Man Out of Me does the hard work of giving our bodies and lives back to us.  If you are any kind of mother, like me, or if your own mother is part of your life story, read this book. I wish Dr. Spock would have.
LIDIA YUKNAVITCH

Author of The Chronology of Water