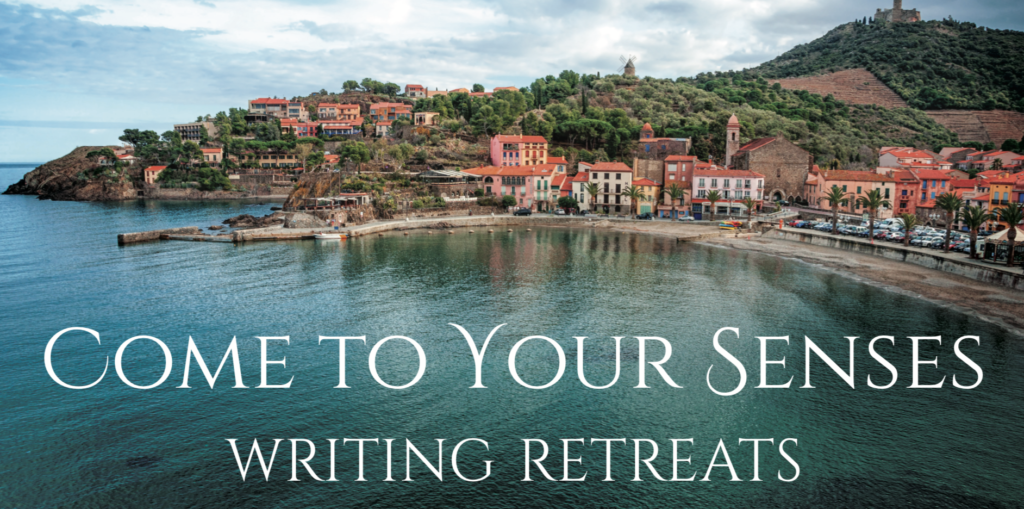 From May 26-June 1 we hosted the second Come to Your Senses writing retreat. Writers from Oregon, California, Illinois, Connecticut, and New York made their way to Collioure to disconnect from the daily grind, immerse themselves in the slow rhythms of life in the seaside village we now call home, and strengthen their writing using their five senses.
Helping us achieve our mission — master guest writer Ann Garvin and international culinary treasure, Chef Emily Park. The food was so exquisite, people kept asking whether this was actually an eating retreat with a bit of writing thrown in to give people something to do between meals.
Our daily routine started with crack of dawn coffee service delivered to the Hotel des Templiers (aka the writers' dorm), fresh croissants and fruit for breakfast followed by workshop. Lunch on the terrace overlooking the foothill vineyards included quiches, salads, homemade pita and hummus, Croque monsieurs, and I am literally salivating remembering the menus. In the afternoon we swam, hiked, wrote, napped, picnicked and took Le Petit Train Touristique to Fort Saint Elme, a ridiculous, delightful part of every visit to Collioure.
There was an agreed upon ban against talking politics, but not cracking open new feelings, and creating and sharing new work. This was an especially witty crew, and we did a lot of laughing our heads off. On Wednesday night, we ventured into the village for an excellent prix fixe meal at La Bodequita, where a woman sitting next to us was forced to plug the ear closest to our table. We American writers like to enjoy ourselves, c'est vrai.
One writer described the week thus: Fantastic. Lovely. Superb. Tasty. Weepy. Laughing. Studious. Desperate. Exhausting. Triumphant. Grief-stricken. Smiley. Drunk. Sunny. Loving. Wistful. Wonderful.
Our next retreat, September 22-28, is sold out, but we're taking deposits for 2020. DATES: June 14-20 and September 20-26.